Posted by StockRunway Editor in Tech Penny Stocks | 0 Comments
Polar Wireless BCDI.OB
Polar Wireless
: The Company is a mobile virtual network operator (MVNO) that works in conjunction with your current provider. The Company eliminates roaming charges while offering competitive calling card rates to its subscribers.
The company's solution currently operates in over 213 countries on over 500 partner networks providing the first global network solution for mobile users that eliminates roaming surcharges while allowing users to maintain their home number and home carrier relationship.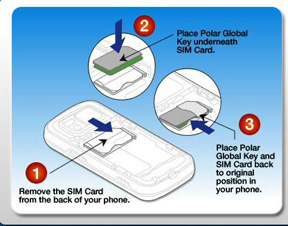 Polar Wireless has been designed around convenience. With BCDI, you can continue dialing directly without the hassle of replacing SIN cards and changing your number! When using BCDI you will have absolutely no need to change your calling habits, no need to learn new buttons and menus, and no need to dial local access numbers and pin codes.
Using BCDI makes long distance calling easy. Save over 80% on your long distance rates. Eliminate roaming charges on your mobile phone while traveling abroad and remain connected to your friends and colleagues.
Polar Wireless BCDI.OB :
One Easy Installation Delivers the World. Install it and Forget it…The Polar Global "Key" is inserted behind your SIM card and the Firmware will install on your phone by itself in seconds!
Compatible With Virtually ALL GSM Phones on the Planet! (80% Worldwide Market Coverage) including locked and unlocked GSM phones.
Pole to pole Coverage Worldwide! BCDI makes International calling easy.

Traveling to Brazil and then off to Russia?

No problem for Polar Wireless.
No Contracts…No Hidden Fees…No surprises! BCDI operates on 100% pre-payment to ensure that all BCDI customers are aware exactly how much each call is costing them.
Voice, SMS, MMS, and Data Available at the Same Great Polar Wireless Rates! No Hidden Agendas!
Polar Wireless Corp. news releases:
Polar Wireless Completes Global Data Centre
Capable of Scaling to Simultaneously Service Multiple Million Mobile Users Globally
Polar Wireless Corp. today announced the completion of the data centre for its new global telecommunications service. The company has been working during the past year to develop, integrate, program and test an effective platform that is capable of servicing users globally and is scalable to demand.
2.    
Polar Wireless Develops Breakthrough Global Solution to Eliminate Mobile Roaming Fees
New Technology Will Eliminate Roaming Charges and Subscribers Will Keep Their Same Number and Handset Worldwide While Enjoying Savings of Up to 80% vs. Normal Roaming Charges.
Polar Wireless Corp. has entered into a definitive agreement to acquire all of the outstanding common shares of 2230354 Ontario Inc., a privately held company that has developed a proprietary technology that eliminates global roaming fees for all GSM mobile handsets, the company has provided further details on its new global mobile service and product offering.
3.      Polar Wireless Acquire Patent-Pending Technology that Eliminates Mobile Roaming Fees Worldwide
True Carrier Quality, Not WiFi or Data
Polar Wireless BCDI announced today that it has entered into a definitive agreement to acquire all of the outstanding common shares of 2230354 Ontario Inc. ("2230354″). 2230354 is a privately-held Ontario, Canada company that has developed a proprietary solution that eliminates global roaming fees for all GSM mobile handsets for Voice, Data and SMS.
Technical Analysis Catalyst

Let's take a close look while analyzing and accessing the 3 month advanced chart on BCDI. The stock is currently in a very compelling chart pattern that could break out to the upside in a big way over the near term.
The "trigger" number to keep an eye on tomorrow is $.84 which would clear most all overhead resistance during a 3 month span of trading activity while strong support is resting in the $.70-.75 region.
Notice the price-action recently testing support levels on light volume hence this is a clear cut, textbook sign of market makers running several stops before it's move begins in the opposite direction…UPWARD!  Stay Tuned for further updates and Let's keep a close eye on BCDI!
Upgrade to First Class Stock Alerts for FREE!